Introduction
The D500 is Nikon's new flagship DX-format (APS-C) camera. We were waiting a long time for Nikon to produce an update for the D300S, so much so that it has skipped a number and gone straight to D500.
Despite the fact that the D500 is a DX model, it shares a lot in common with the D5 – Nikon's professional, full-frame, (and much more expensive) DSLR. That includes the same processor, focusing system, and interestingly, same number of pixels.
That resolution count is 20.9 million pixels. That's less than we've seen in some of Nikon's other APS-C sensor cameras (the D7200 has a 24 million pixel sensor), but Nikon says that the sensor has been designed to the same specification as the full-frame D5. The D500 has a native ISO range of 100 – 51,200. This year Nikon seems to be all about incredibly high ISO values, and the D500 is no different – the maximum expanded setting is ISO 1,640,000.
The Nikon D500 has an EXPEED 5 sensor which helps to facilitate a fast frame rate of 10fps. It's also possible to record 4K video, which, unlike the D5, can record for the full 29 minutes and 59 seconds. There are 153 AF points, which includes 99 more sensitive cross-type sensors, and 15 sensors which are sensible down to f/8. All of the focus points are sensitive down to -3EV, with the exception of the central sensor, which can go down to -4EV, which should be fantastic news for low light focusing.
Competing with the 7D Mark II, the Nikon D500 is available body only for £1729 / $1999, or as part of the kit with Nikon's 2015 release 16-80mm f/2.8-4 lens for £2479 / $3099.
Ease of Use
The Nikon D500 is a pretty chunky and solidly built camera, which gives it a feeling of high quality construction. There's a large grip which has a protruding section where the shutter release is found, enabling your middle finger to sit comfortably beneath it. There is a rubberised coating around the grip and on the back of the camera which helps it so sit comfortably in your hand. The camera is also fully weather-sealed, which is great news for landscape and outdoor photographers.
There's a large number of direct access buttons, and dials, which is exactly what we'd expect from a camera which is aimed at enthusiast or advanced amateurs. Like the Nikon D5, the screen is also touch sensitive, which can be used for some elements of operation.
On the top left of the Nikon D500 you'll find a rotating dial which can be moved to change the drive mode, including single shooting, quiet mode, continuous and mirror up. You'll need to push down a small button just in front of the dial in order to change it, which prevents you accidentally moving it when you don't want to.
Above this dial you'll find four buttons, which you need to use in conjunction with a scrolling dials found on the front and rear of the grip. There's a button for Image Quality, for Metering Mode, for White Balance and for Exposure Mode. Simply hold down whichever button you need to use, then use the scrolling dial to make changes. You'll see confirmation of the changes being made in the LCD panel on the top of the camera. It's a very quick and intuitive way of making changes, and you can generally swiftly set up the settings you need for the shot.
Like many high-end cameras, the only shooting modes you can use are P (Program) A (Aperture Priority) S (Shutter Priority) M (Manual) – in other words there's no automatic mode.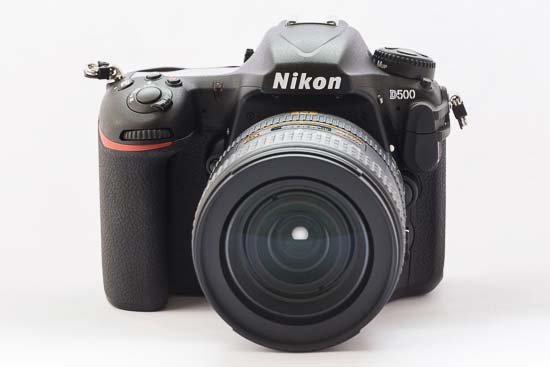 Front of the Nikon D500
Just behind the shutter release button there's a button for changing ISO and a button for altering exposure compensation. Again you use this in conjunction with the scrolling wheel on the back of the Nikon D500. Here is also where you'll find a button for video recording, allowing you to start video recording once you're in video shooting mode. Around the shutter release is a switch for turning the camera on or off, and if you move it around on further than the "on" position, you'll also switch on the illumination light for the LCD panel which is useful when you're working in lower light conditions.